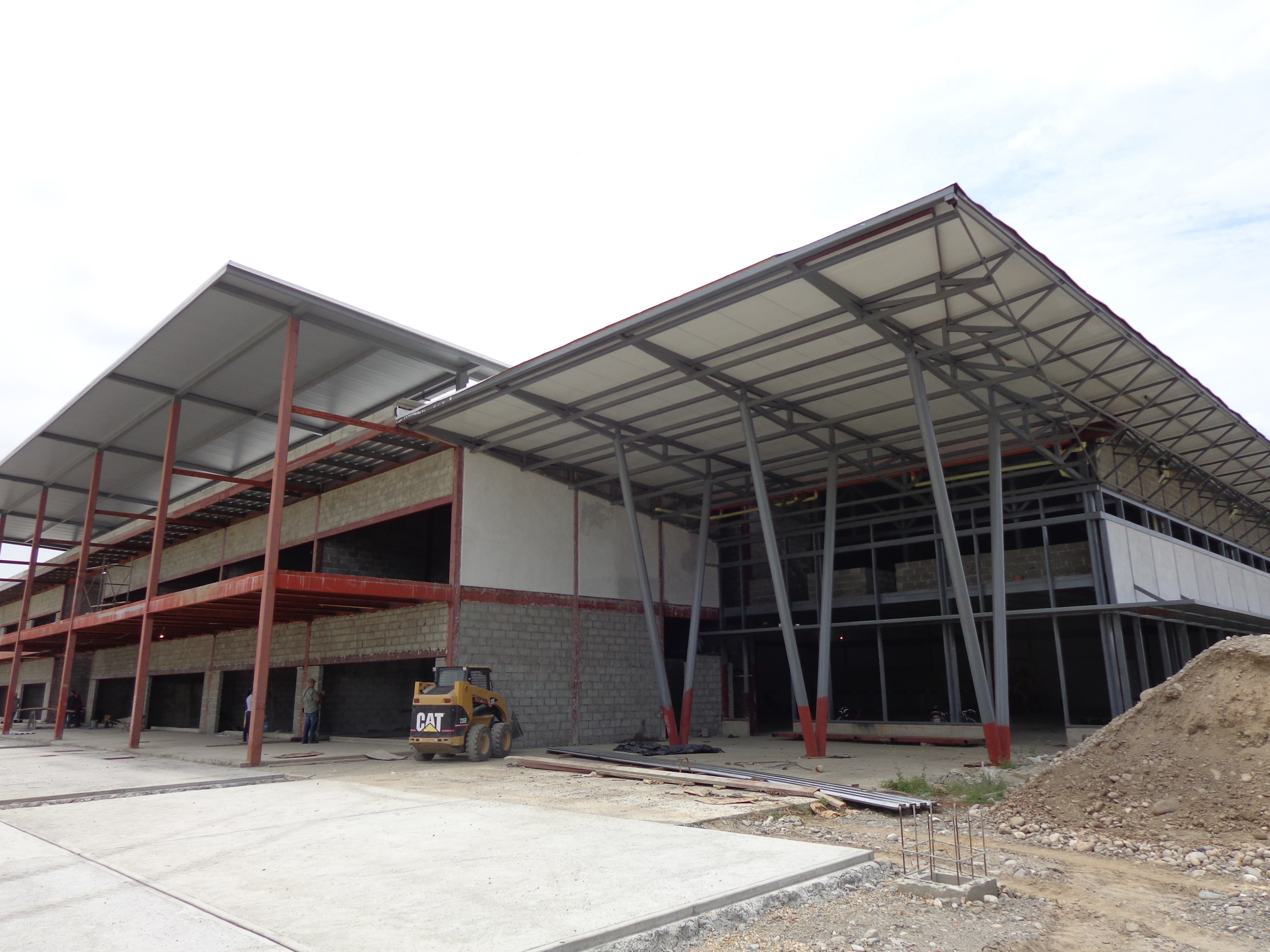 Centro Comercial De Candido Santa Bárbara / De Candido Santa Barbara Shopping Center
Tipología urbana en medio rural
Santa Bárbara, Venezuela. 2011-2016
En una ciudad rural de rápido crecimiento, y de marcada vocación ganadera y agrícola, la construcción de un centro comercial puede devenir un acontecimiento mayor.
Es por ello que se persigue dotar de urbanidad al complejo para marcar el paso de ciudad rural a urbana hacia la cual está en tránsito.
Por ello como en el caso de una buena parte del desarrollo de hábitat residencial que construyó Viena en los años 20 y 30, que proyectó edificios urbanos en medio de campos de cultivo, con tipologías netamente urbanas, se concibe aquí en Santa Bárbara un centro comercial urbano, abriendo su ancla principal hacia un amplio paseo que bordea la avenida principal a lo largo de toda la parcela.
Larga fachada acristalada, pero protegida, entrada urbana, desarrollo de locales a dos niveles con elementos estructurales también a escala urbana, y el propio paseo son los recursos de urbanidad aportados para tal fin.
Urban typology in rural areas
Santa Bárbara, Venezuela. 2011-2016
In a rural boomtown, with an important agricultural and cattle vocation, the construction of a mall can become a major event.
That is why we propose urbanity for the building being able to mark the transition from a rural to an urban city towards which it is in transit.
Therefore, and as in the case of a large part of the development of residential habitat that Vienna built in the 20s and 30s, where urban buildings were designed in the middle of fields, with distinctly urban typologies, we conceived in Santa Barbara an urban mall, opening its main anchor to a wide walk along the main avenue that runs along the whole plot.
A long but protected glass facade, an urban entrance, local shops on two levels with urban scale structural elements, and the walk itself are urbanity resources provided for that purpose.
Proyecto / Project: Centro Comercial De Candido Santa Bárbara / De Candido Santa Barbara Shopping Center
Arquitectura / Architecture: NMD NOMADAS
Directores de Diseño / Design Directors: Farid Chacón, Francisco Mustieles, Janeth Boza, Claudia Urdaneta
Líderes Proyecto / Project Leaders: María Ojeda, Vanessa Rincón
Equipo Diseño / Design Team: Miguel Martos, Dariné Colina, Sandra Mustieles
Pasante / Intern: Saisy Fung
Arquitectura del Paisaje / Landscape Architecture: Astrid Petzold
Asesora Vialidad y Transporte / Transportation and Traffic Adviser: Carmela Gilarranz
Asesor Estructuras y Constructibilidad / Structures and Constructability Adviser: Mario Biancardi
Asesor Iluminación / Lighting Adviser: Área Lighting
Ingeniería / Engineering: Innova Ingeniería
Año Proyecto / Project Year: 2011-2013
Año Construcción / Construction Year: 2016
Área Construcción / Construction Area: 6.457 m2 / 69.502 sqft
Ubicación / Location: Sector Km 2 vía Santa Bárbara, El Vigía, Municipio Colón, estado Zulia, Venezuela