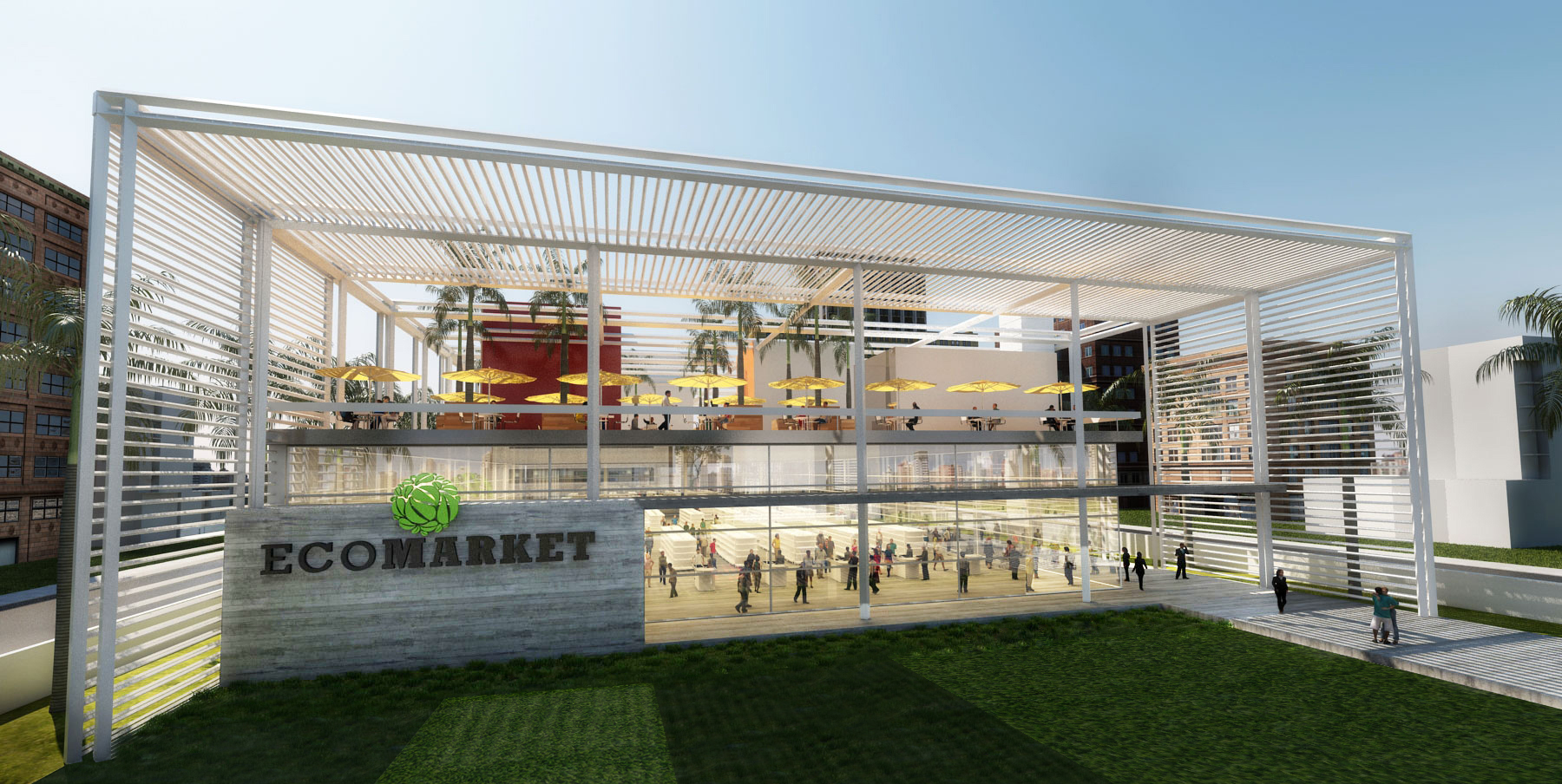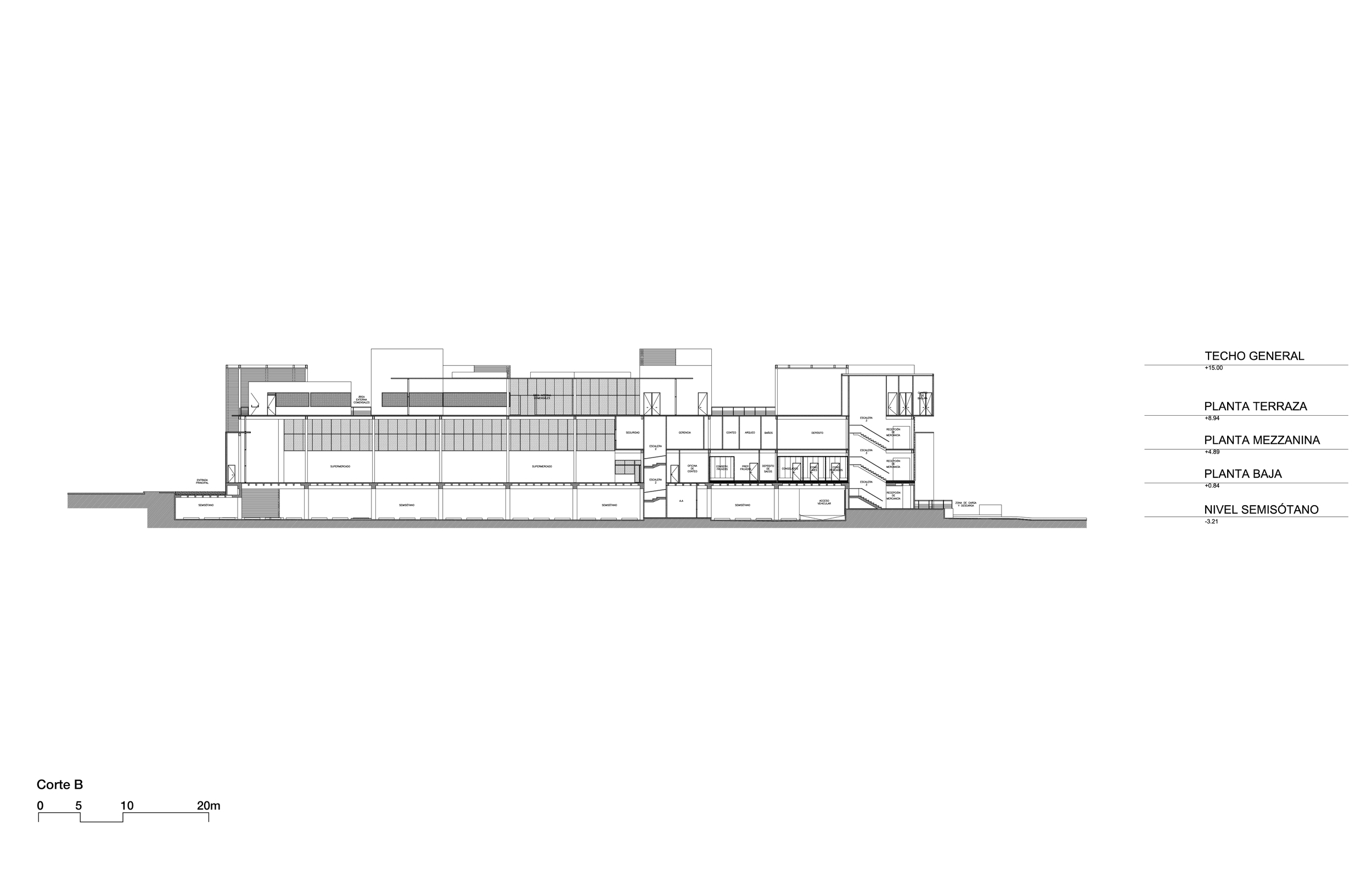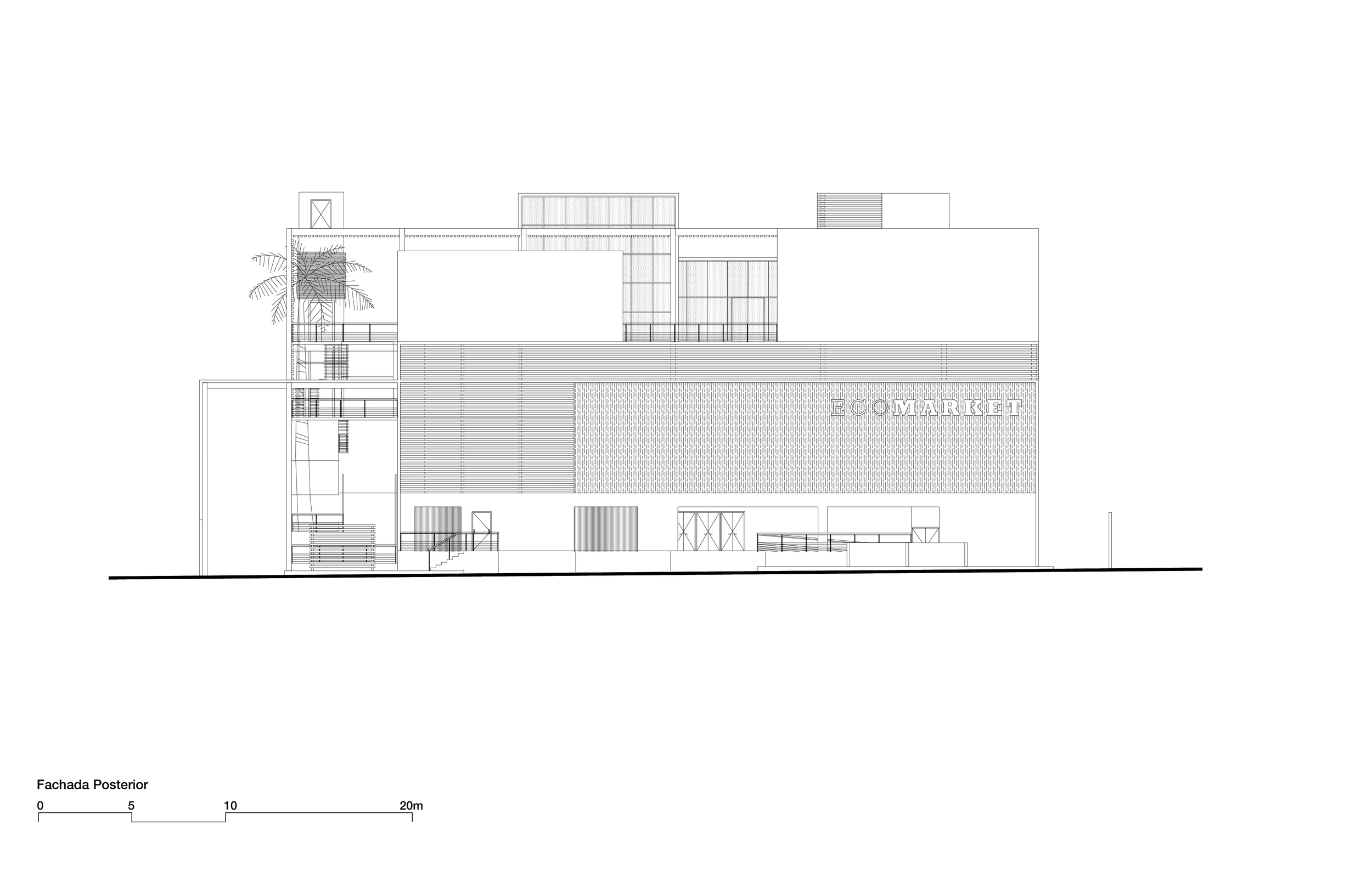 Una caja ermitaña de luz
Valencia, Venezuela. 2014 - 2017
La cubierta actúa como sombrero de la edificación: protegerse para poder mostrarse.
El edificio para el supermercado Ecomarket se presenta como una caja de vidrio dentro de un envoltorio de permeabilidad; protegerse para mostrarse: suerte de edificio ermitaño que se esconde de las inclemencias para poder mostrarse a los usuarios como vitrina. El supermercado se exhibe, se muestra, no se esconde detrás de muros opacos.
El edificio posee 4 niveles de los cuales 2 niveles concentran el programa de supermercado, incluyendo sus depósitos, 1 nivel de estacionamiento y 1 nivel de terraza gastronómica para restaurantes en el último nivel bajo protección de una gran cubierta.
El acceso a los distintos programas de uso de la edificación se realiza lateralmente por una galería cubierta la que se ubican los equipamientos para la circulación vertical (escalera y ascensor).
Todo el edificio provee accesibilidad para todos tanto en los desplazamientos horizontales, en cada nivel, y verticales, entre niveles.
El edificio provee a la ciudad de continuidad en las aceras en ambos lados de la parcela.
A hermit light box
Valencia, Venezuela. 2014 - 2017
In the tropics the cover acts as a building's hat: to protect itself, and to be displayed.
The building for the Ecomarket supermarket is presented as a glass box within a wrapped permeability; protect to show: sort of hermit building hiding from adverse climate conditions to appear to users as a showcase. The supermarket is displayed, shown, not hiding behind opaque walls.
The building has 4 levels including 2 levels that concentrate the supermarket program, including storage, 1 level of parking and 1 terrace dining restaurants on the top level under the protection of a large cover.
Access to the various programs of use of the building is carried-out laterally by means of a covered gallery in which the vertical circulation equipment (stairs and elevator) is located.
The whole building provides accessibility for all types of movements on each level and between levels.
The building provides the city of continuity on the sidewalks and on both sides of the plot.
Proyecto / Project: Ecomarket
Arquitectura / Architecture: NMD NOMADAS
Directores de Diseño / Design Directors: Farid Chacón, Francisco Mustieles, Víctor Martínez
Líderes Proyecto / Project Leaders: María Neuman, Carmen Griborio, Bianca Bracho, Laura Carreño
Equipo Diseño / Design Team: Miguel Escotet, Luis Delgado, Paula Párraga, Valeria Nolé, Betzy Fernández
Pasante / Intern: Mariana Namur
Asesora Arquitectura del Paisaje / Landscape Architecture Adviser: Astrid Petzold
Asesora Vialidad y Transporte / Traffic and Transportation Adviser: Carmela Gilarranz
Asesor Iluminación / Lighting Adviser: Área lighting
Ingeniería Estructural / Structural Engineering: David Safayeh
Ingeniería Eléctrica / Electrical Engineering: Humberto Rosales
Ingeniería Mecánica / Mechanical Engineering: Ángel Carvajal
Ingeniería Sanitaria / Sanitary Engineering: David Safayeh
Construcción / Construction: Santos Barrios
Año Proyecto / Project Year: 2014 - 2016
Año Construcción / Construction Year: 2015 - 2017
Área Construcción / Construction Area: 9.705 m2 / 104.463 sqft
Ubicación / Location: Avenidas 88 y 88A, entre calles 130 y 132, San José de Valencia, estado Carabobo, Venezuela