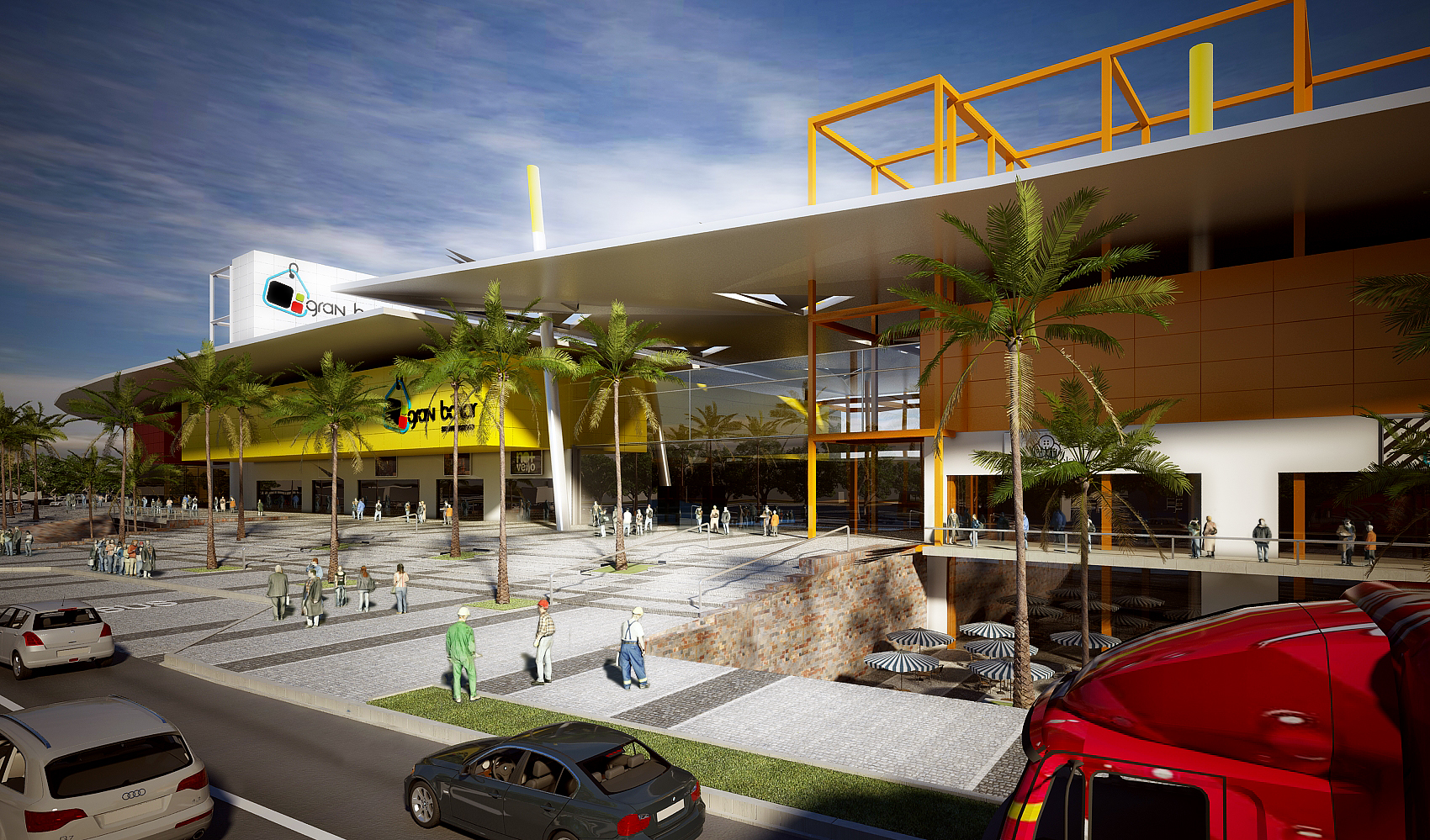 Gran Bazar / Gran Bazar Mall
Amigabilidad urbana
San Francisco, Venezuela. 2011-2017
El Gran Bazar San Francisco (GBSF) se ubica en un área clave donde se interceptan 4 de las 6 parroquias que conforman el Municipio San Francisco; se concibe por ello como un punto estratégico para el desarrollo de una nueva centralidad para ese municipio, capaz de potenciar el desarrollo a partir de él.
La obra es un gesto de conciliación urbana de sí misma con su contexto, alejándose de las soluciones típicas de implantación del gran edificio tipo mall en el centro de la parcela rodeado de estacionamiento.
Para ello el interior del centro comercial se desliza al exterior para salir a recibir como plaza pública. Por este motivo el estacionamiento pasa al sótano liberando más de 370m lineales de fachada comercial y al estar ésta retraída de la vía, genera un paseo arbolado de más de 3800m2, propiciando lugares de encuentro que otorgan una relación más amigable del edificio con el entorno; la fachada deja de ser inerte ya que los locales en este nivel se abren a este frente urbano.
Urban friendliness
San Francisco, Venezuela. 2011-2017
The Grand Bazaar San Francisco (GBSF) is located in a key area where intersect 4 of the 6 parishes that make up the municipality of San Francisco; for it is conceived as a strategic point for the development of a new center for the municipality, capable of enhancing the development from it.
The work is a gesture of reconciliation urban context herself, away from the typical solutions for implementing the big mall type building in the center of the plot surrounded by parking.
The inside of the mall slides out to receive as a public square. For this reason the parking goes to the basement releasing more linear storefront; and being set back from the road, it generates a large urban walk of more than 3800m2 (40902 sqft), where there are meeting places that provide a friendlier relationship between the building and its context; the facade is no longer closed at this level because they open to their urban front.
Proyecto / Project: Gran Bazar San Francisco
Arquitectura / Architecture: NMD NOMADAS
Directores de Diseño / Design Directors: Farid Chacón, Francisco Mustieles, Janeth Boza
Líder Proyecto / Project Leader: David Rubio, Paola Nava
Equipo Diseño / Design Team: Francisco García, Edwin Parada, Vanessa Rincón, Irina Delgado
Asesora Arquitecruea del Paisaje / Landscape Architecture Adviser: Astrid Petzold
Asesora Vialidad y Transporte / Traffic and Transportation Adviser: Carmela Gilarranz
Ingeniería / Engineering: Nelson Quintero Weffer
Construcción / Construction: Grupo Fernández
Año Proyecto / Project Year: 2011
Año Construcción / Construction Year: 2012-2017
Área Construcción / Construction Area: 60.965 m2 / 656.221 sqft
Ubicación / Location: San Francisco, Venezuela