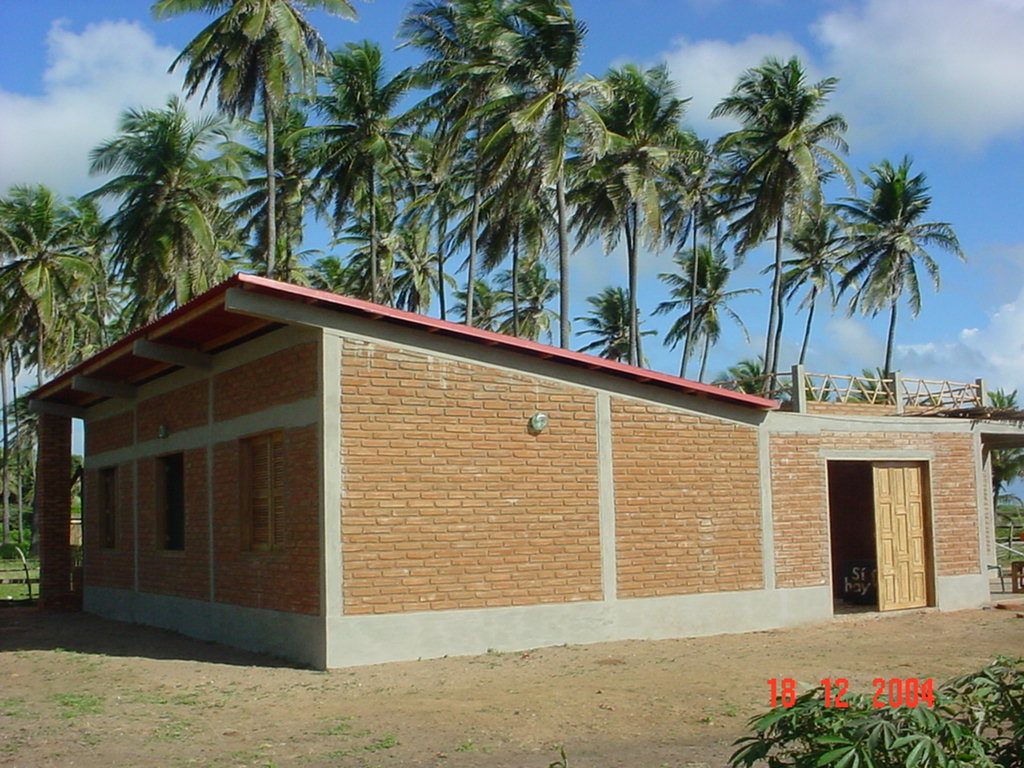 Casas Las Pitías 1 / Las Pitias 1 House
Casa híbrida
Las Pitías, Venezuela. 2001-2004
En este proyecto se convoca a la comunidad a participar activa y diligentemente en el proceso de diseño, gestión y ejecución de los proyectos, reactivando la voluntad de participación de la comunidad perdida por anteriores dinámicas inconclusas y experiencias traumáticas sistemáticas en el tiempo y en el desarrollo de la comunidad.
La casa Wayúu no mira hacia adentro; en ella el espacio doméstico abarca condiciones territoriales y la vida de la vivienda trasciende los muros de la misma.
Se plantea una vivienda híbrida, territorial, pero que ofrece nuevas comodidades y nuevas condiciones de seguridad. La incorporación del patio como corazón de la misma se convierte en el elemento acoplador del sistema; un espacio de altos techos, protegido y cerrado que contiene las habitaciones; y otro espacio más abierto y permeable de techos planos para aprovechar el entrepiso como terraza, que contiene el espacio de usos múltiples la cocina con relación directa con el fogón y el baño.
Hybrid house
Las Pitias, Venezuela. 2001-2004
We called the community to participate actively and diligently in the process of design, management and implementation of the project, reviving the will of community involvement that was lost by past unfinished dynamics and systematic traumatic experiences in the historic development of the community.
The Wayuu house does not look inward; it covers the domestic territorial space and the living conditions of housing go beyond the walls.
We propose a hybrid, territorial house, that offers new amenities and new security. The courtyard acts as the heart of it becoming the unifying element of the internal spatiality; an enclosed space with high ceilings contains the rooms; and a more open and permeable flat roofs which contains the multipurpose space and kitchen.
Proyecto / Project: Casa Las Pitías 1 / Las Pitias 1 House
Arquitectura / Architecture: NMD NOMADAS
Directores de Diseño / Design Directors: Farid Chacón, Francisco Mustieles, Claudia Urdaneta, Lourdes Peñaranda, Víctor Martínez
Líder Proyecto / Project Leader: Janeth Boza
Equipo Diseño / Design Team: Hugo Sánchez, Sailka Durán
Ingeniería / Engineering: Nelson Quintero Weffer
Consejo Comunal Las Pitías / Las Pitias Community Council: Efraín Larreal
Año Proyecto / Project Year: 2001
Año Construcción / Construction Year: 2004
Área Construcción / Construction Area: 125 m2 / 1.345 sqft
Ubicación / Location: Las Pitías, Venezuela