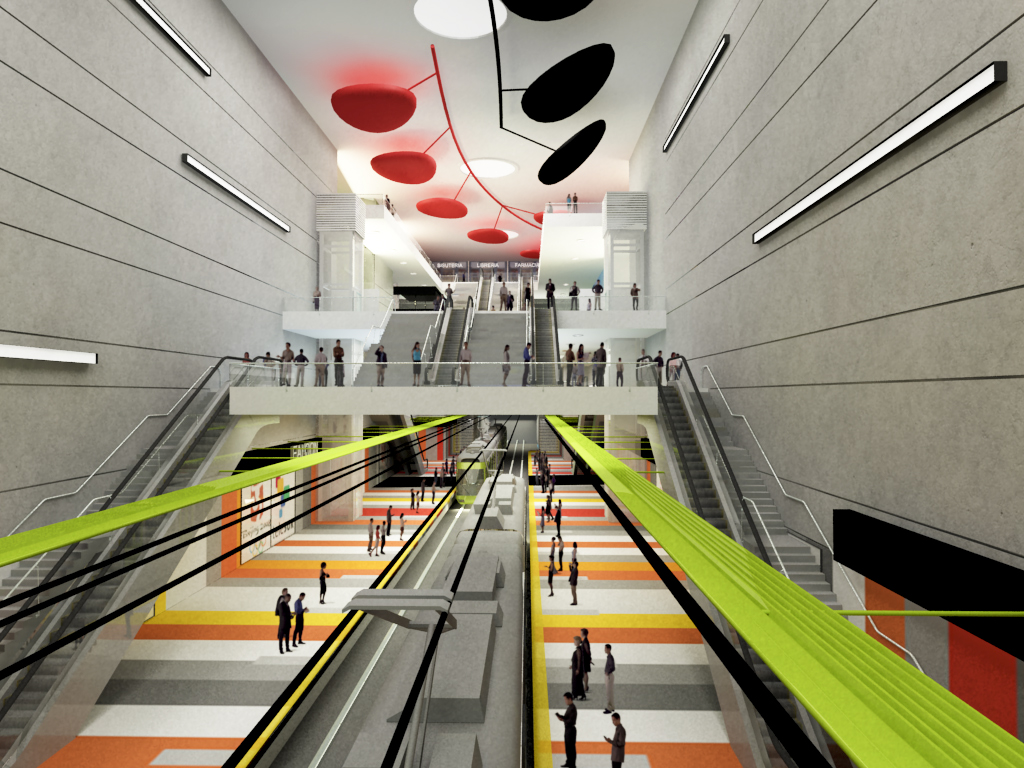 Estaciones de Metro Padilla, Falcón y 5 de Julio / Padilla, Falcon and 5 de Julio Metro Stations
Como catedrales hundidas
Maracaibo, Venezuela. 2009
Para las estaciones bajo tierra de la Línea 1 del Metro de Maracaibo se quiso privilegiar lo hundido sobre lo subterráneo, esto es hacer descender la urbanidad de la ciudad.
Por ello se incorporaron los siguientes principios:
La percepción de la profundidad, como reveladora de la magnitud de la obra, verdaderas catedrales hundidas.
La estación como espacio público, para que sea entendida como prolongación en subsuelo de la urbanidad existente en superficie.
Incorporar la luz natural como animación y expresión del hundimiento de la estación.
Revelar las estaciones en superficie para convertirse en elementos de afirmación y animación urbana.
La estación insertada en paseos urbanos como pieza responsable de la transformación de la urbanidad en superficie.
La estación como vinculadora de los bordes urbanos de la avenida en la cual se inserta; la estación como pasaje.
La estación como lugar de encuentro, de paso y de transporte. La estación debe favorecer el encuentro –por ello sus características de espacio público urbano-, de paso –por ello su característica de pasaje- y de transporte por ello es una estación-.
Privilegiar la comprensión de la estación por parte del usuario a través de la percepción de todos sus niveles.
Las dimensiones de las estaciones del metro en su altura, ancho y largo recuerdan las proporciones de una catedral, y en consecuencia una ciudad que se dota de un metro en subterráneo, grandes espacios bajo tierra para ser disfrutados por sus habitantes y usuarios al acceder al sistema Metro: verdaderas catedrales contemporáneas; se trata de edificaciones que deben expresar y vivir el gran volumen interior que poseen.
Adicionalmente, si bien la línea se construirá en subterráneo a través de la perforación de túneles ejecutados con la TBM (Tunnel Boring Machine), el espacio de las estaciones se construirá con el sistema de trinchera cubierta, esto es, se excavará en el suelo un gran vacío para construir la estación a cielo abierto y luego se cubrirá, esto es, el vacío es pues el espacio de origen de la estación bajo tierra, es el gran esfuerzo y debe perpetuarse en la construcción de la estación en niveles.
Sunken cathedrals
Maracaibo, Venezuela. 2009
For underground stations of Line 1 of Metro de Maracaibo we would favor the notion of sunk over the notion of underground, lowering the urbanity of the city down into the station.
Therefore the following principles were incorporated:
The depth perception as indicative of the magnitude of the building: real sunken cathedrals.
The sunken station as a public space by extending the existing urbanity on surface into the basement.
Incorporate natural light as animation and expression of the sinking of the station.
Reveal the surface station to become elements of affirmation and urban animation.
The station inserted in urban walks being responsible for the transformation of urbanity on surface.
The station seeks to link the urban edges of the avenue in which it is inserted, as a passage station.
The station as a meeting place for transit and transportation. The station should encourage contact, pass and transport, hence the characteristics of urban public space, passage and station.
Privilege the understanding of the station by the user via the perception of all levels.
The dimensions of the subway stations in their height, width and length proportions are reminiscent of a cathedral, and consequently, a city that gives itself a subway, cannot waste to create large underground spaces to be enjoyed by its inhabitants and users: real contemporary cathedrals; these are buildings that must express and experience the great interior volume they own.
Additionally, although the line is built underground through tunneling executed with TBM (Tunnel Boring Machine), the space of the station will be built with the covered trench system, that is, a great void will be dug in the ground to build the station as an open pit and then it will be covered, that is, the void is thus the source of space for the station underground, it is the great effort and it must remain as such in the construction of the station levels.
Proyecto / Project: Estaciones de Metro Padilla, Falcón y 5 de Julio / Padilla, Falcon and de Julio Metro Stations
Arquitectura / Architecture: NMD NOMADAS
Directores de Diseño / Design Directors: Francisco Mustieles, Farid Chacón y Janeth Boza
Líder Proyecto / Project Leader: Janeth Boza
Asesora Vialidad y Transporte / Traffic and Transportation Adviser: Carmela Gilarranz
Ingeniería / Engineering: POYRY - Proinci
Año Proyecto / Project Year: 2009
Ubicación / Location: Metro de Maracaibo. Maracaibo, Venezuela