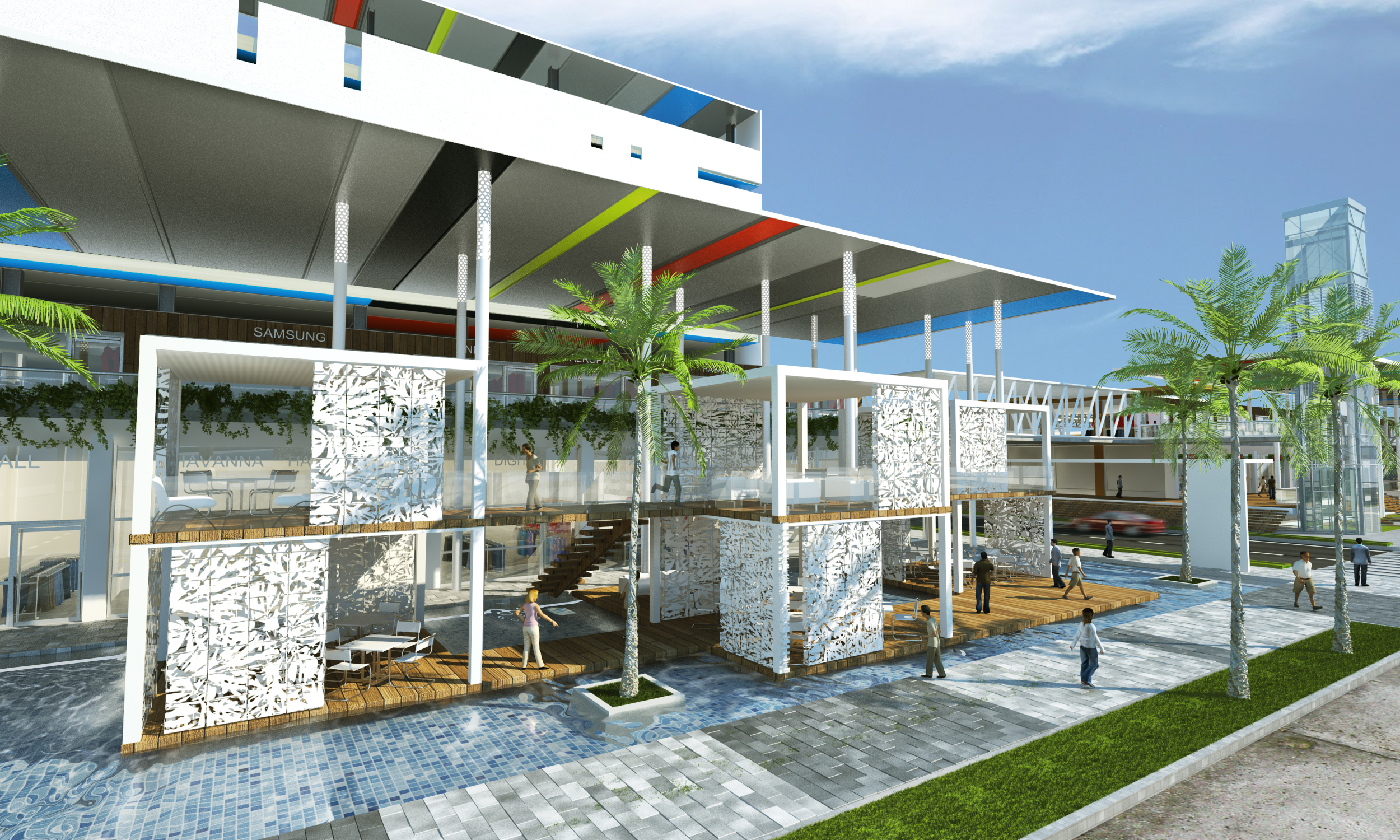 Centro Zona D / Zona D Center
Redimensionando y humanizando el tejido urbano
Maracaibo, Venezuela. 2012 - 2018
El proyecto Zona D parte de la necesidad de generar conexiones entre usos comerciales de grano macro distribuidos en cuatro manzanas separadas por vías.
La propuesta consiste en unir estos cuatro grandes cuerpos para favorecer el recorrido peatonal de uno a otro edificio bajo sombra y con seguridad. La calle pasa a ser un espacio donde las personas y los vehículos co-existen.
Este proyecto apuesta por la emergencia en la ciudad de nuevas centralidades urbanas que amalgamen diversidad de usos (comerciales, culturales, recreacionales, etc.) pero federados por la preeminencia de una espacialidad pública generosa y acondicionada; no es un centro comercial ni un mall, sino un trozo de ciudad integrado al tejido urbano existente; no es una impostura anti-urbana sino una costura de urbanidad.
Resizing and humanizing the urban fabric
Maracaibo, Venezuela. 2012 - 2018
Zone D project generates connections between macro commercial grains distributed in four blocks separated by roads.
The proposal unifies these four large bodies to promote pedestrian walking from one building to another under shade and safely. The street becomes a space where people and vehicles co-exist.
This project is committed to the creation of new urban centers that amalgamate diversity (commercial, cultural, recreational, etc.) but are federated by the preeminence of a generous and conditioned public spatiality; It is not a shopping center or a mall, but a piece of city integrated into the existing urban fabric; It is not an anti-urban imposture but a seam of urbanity.
Proyecto / Project: Centro Zona D / Zona D Center
Arquitectura / Architecture: NMD NOMADAS
Directores de Diseño / Design Directors: Farid Chacón, Francisco Mustieles, Víctor Martínez, Janeth Boza, Claudia Urdaneta
Líderes Proyecto / Project Leaders: María Neuman, David Rubio, Vanessa Rincón, Laura Carreño
Equipo Diseño / Design Team: María Ojeda, Angélica Cerero, Karelis Díaz, Tatiana Pietrangeli, Simón Arends,
Miguel Escotet, Paula Párraga, Miguel Martos, Julia Tena, Luis Delgado, Sandra Mustieles, Jesús Hidalgo, Betzy Fernández
Arquitectura del Paisaje / Landscape Architecture: Astrid Petzold
Vialidad y Transporte / Traffic and Transportation: Carmela Gilarranz
Asesor Iluminación / Lighting Adviser: Área Lighting
Ingeniería / Engineering: Innova Ingeniería - BPC
Ingeniería Mecánica / Mechanical Engineering: Franco Travaglini
Construcción / Construction: CONACA
Año Proyecto / Project Year: 2012 - 2015
Año Construcción / Construction Year: 2015 - 2018
Área Construcción / Construction Area: 78.727 m2 / 847.410 sqft
Ubicación / Location: Circunvalación 2, a 70 m de la esquina con la Avenida 15, Corredor Vial las Delicias. Maracaibo, estado Zulia, Venezuela